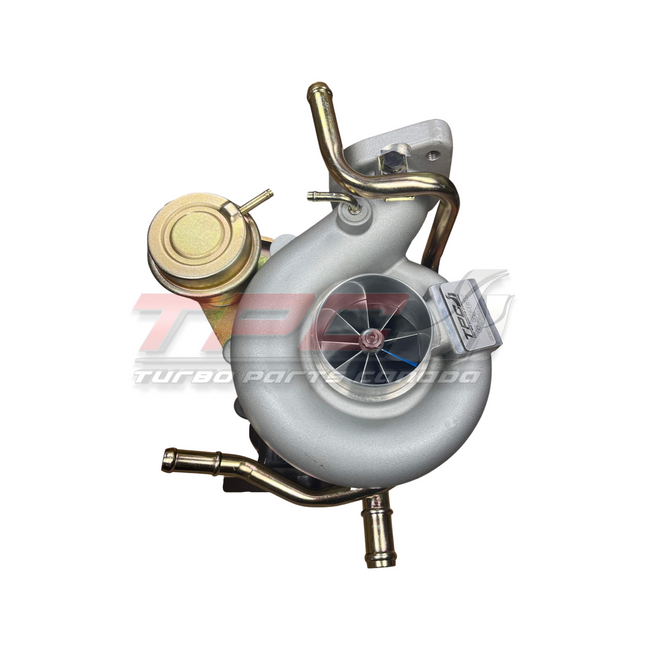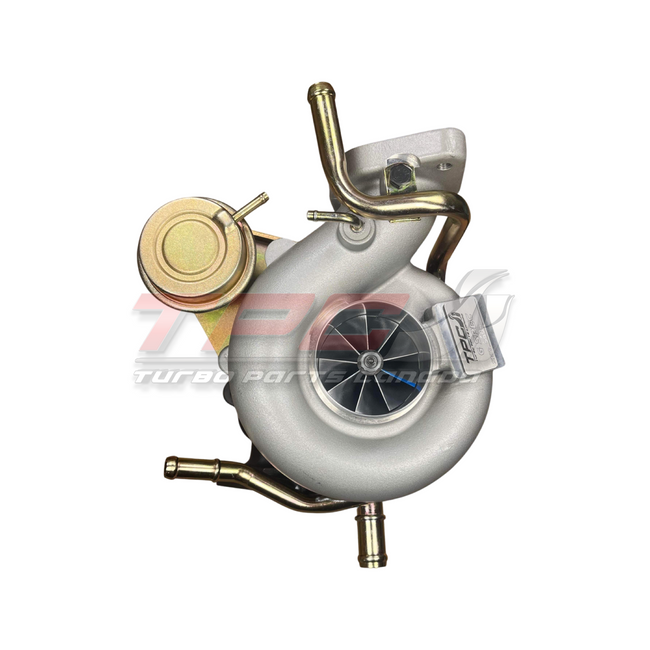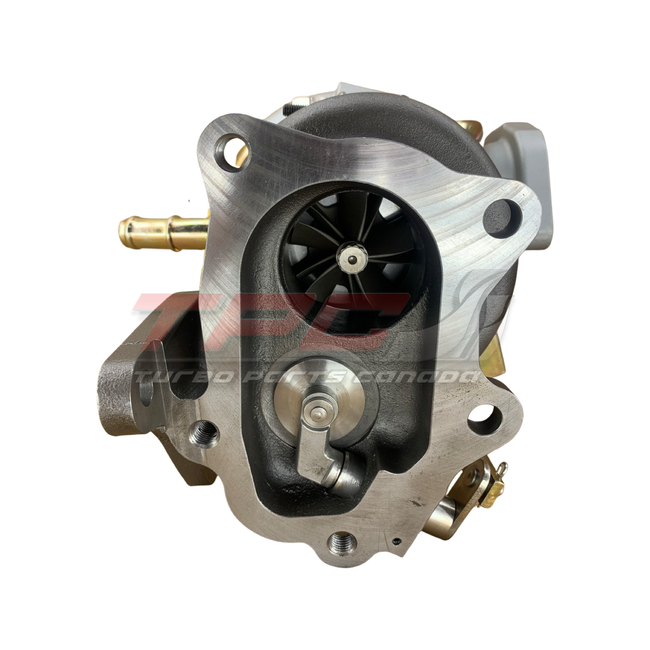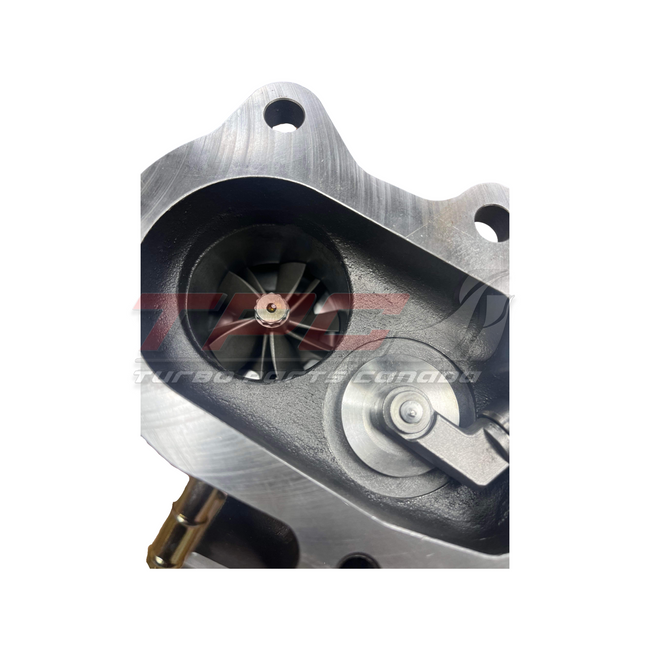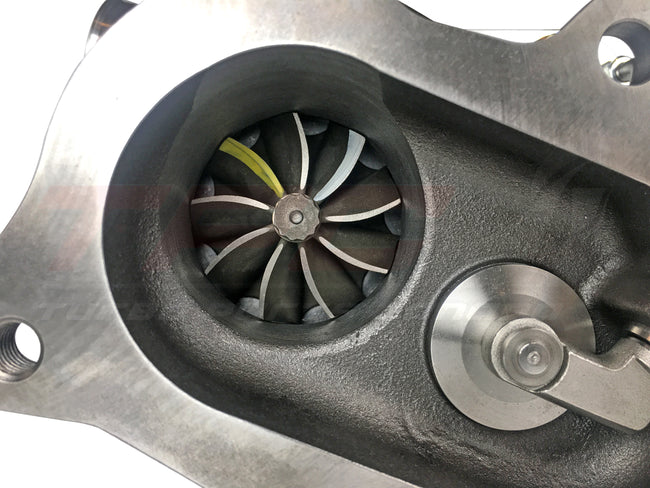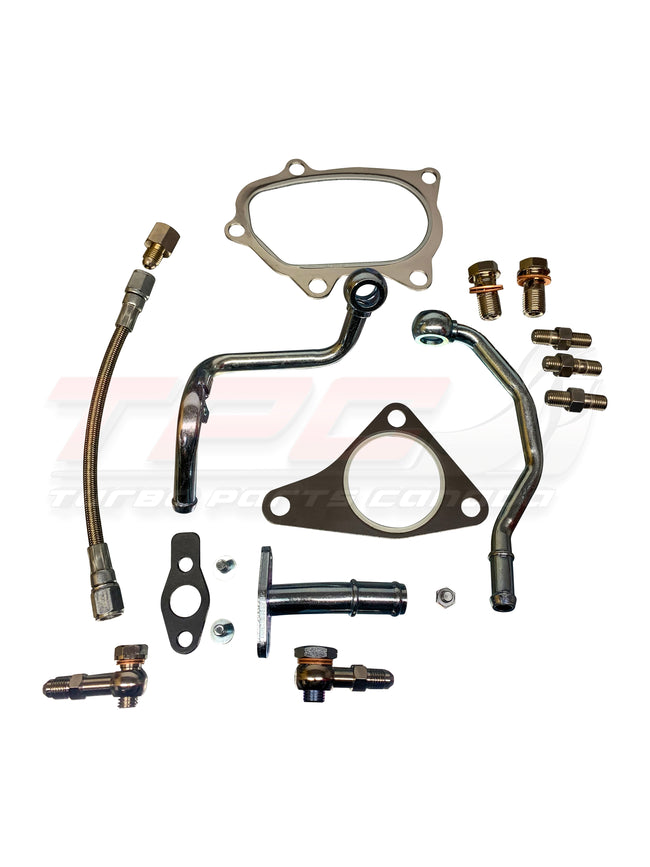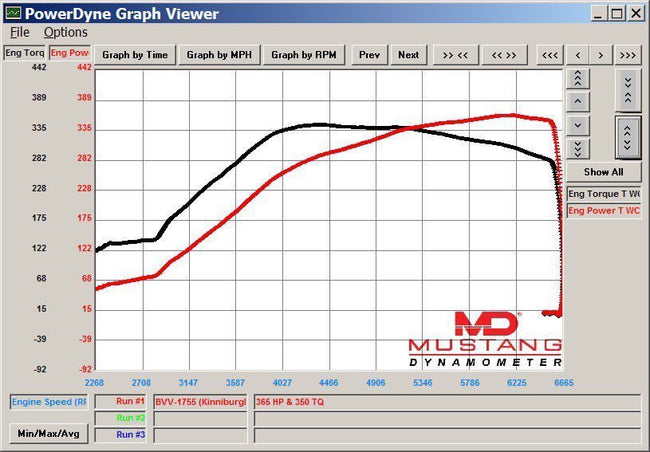 TPC has updated our super20g ( K spec) with newer wheels. We have replaced the 20G compressor wheel with a more efficient  G series 660 inspired wheel. This new compressor wheel is larger than the 20G and flows more air. 
There is the choice of a 9 blade turbine wheels in a 49mm turbine wheel or a 54mm for those looking for more top end. We also offer the 49mm in a 5+5 option for more top end over the 9 blade 49mm wheel.
 The 49mm is designed for the quicker spool and more down low torque in mind. If you want something that will pull past red line then the 54mm is a better match for you. 
We recommend the 49mm for the 2L and 54mm for the 2.5L engines for optimal spool times. These combinations will get you in low 12s 1/4 mile times with supporting mods and fuel.
We only use high performance thrust bearing systems in our turbos to ensure your turbo is well protected under high boost.
You can choose what turbine housing you want. We offer 8CM OR 10CM turbine housings.
TPC recommends to run the Perrin 2.4 inch turbo inlet pipe for maximum airflow into the turbo. Add turbo and inlet to cart for special pricing.
Our option 5+5 49mm turbine wheel is only available as a journal bearing turbo.
 A quality install kit with 5 ply gaskets is also included in the price.
Also available in an 8cm twin scroll housing for $250usd extra. Please contact us for this option
Turbos all 100% built and High Speed balanced in house on our VSR balancing machine.
 Dyno graph shows  easily repeatable pump gas results on a basic sti setup with stock intercooler and pump gas. TPC25 660 49mm 9blade Closed deck short block Supporting fuel mods/pump gas 94 Downpipe Ebcs 3 port Intake.  Stock tmic/header Speed density tuning
OEM Part Number

VF40-46-52

Compressor Wheel

54MM/67MM 9 BLADE BILLET

Turbine Wheel

49MM 9 BLADE

49MM 5+5 BLADE

54MM 9 BLADE

Bearing Type Options

UPGRADED JOURNAL BEARING SYSTEM

BALL BEARING SYSTEM

Engine

2L AND 2.5L

Turbocharger Upgrades

UPGRADED BILLET COMPRESSOR WHEEL, UPGRADED TURBINE WHEEL, UPGRADED BEARING SYSTEM

Potential Power

360+WHP with supporting mods

Install Hardware Included

YES

VSR Balanced

YES

Applications

2008-2014 WRX

2005-2009 LEGACY 2.5GT

2005-2009 OUTBACK 2.5XT

Turbine Housings

UPGRADED
**PLEASE CALL TO INQUIRE ABOUT STOCK AND BUILD TIMES**
Comes with a 1 year warranty
Customer has 2 months from date of purchase to return core for refund. Once we receive your core and confirm its rebuildable we will process your core refund. This usually takes 3-5 business days after receiving. Core must be returned with TPC CORE RETURN FORM.
We ship World wide!
Check out our other website listings for more turbos available. If you don't see what you need just give us a call or email us.
Toll Free # 1-866-552-3477 EXT 1
Local #      1-613-868-6801   
Service@turbopartscanada.ca
Subaru WRX / Legacy / Forester 2008 TPC25-660