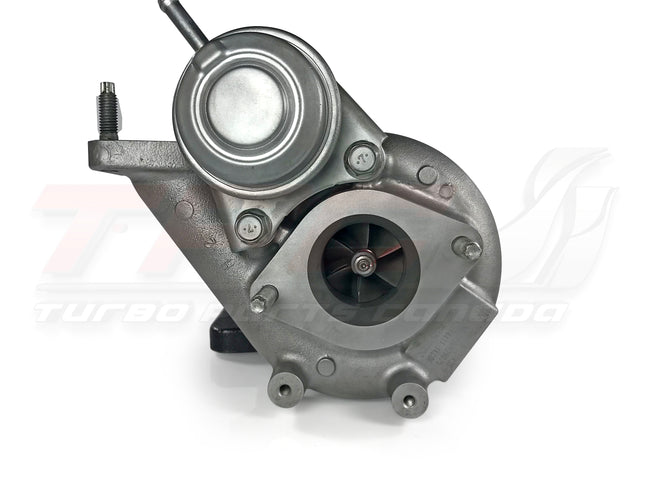 We overhauled this turbo with brand new internal components ensuring another long service life for you and your Juke to enjoy.
Exhaust gaskets, studs, nuts as well as any electronics are NOT included in the price of the turbo
Please note that it is common for the Juke oil feed line to coke up over time and reduce oil flow to the turbo, you MUST replace the oil feed line when replacing the turbocharger for TPC to honour it's 1 year warranty.
OEM Part Number

 14411-1KC2C

Compressor Wheel

OEM

Turbine Wheel

OEM

Bearing Type Options

OEM

Engine

MR16DDT

Turbocharger Upgrades

OEM

Potential Power

OEM

Install Hardware Included

NO

VSR Balanced

YES

Applications

JUKE 2011-2012

JUKE S 2013-2015 TO PROD DATE 9/30/14

JUKE SL 2013-2015 TO PROD DATE 9/30/14

JUKE SV 2013-2015 TO PROD DATE 9/30/14

NISMO 2013-2015 TO PROD 9/30/14

NISMO RS 2013-2015 TO PROD 9/30/14

 

 

 

 

Turbine Housings

OEM
**PLEASE CALL TO INQUIRE ABOUT STOCK AND BUILD TIMES**
Comes with a 1 year warranty
Customer has 2 months from date of purchase to return core for refund. Once we receive your core and confirm its rebuildable we will process your core refund. This usually takes 3-5 business days after receiving. Core must be returned with TPC CORE RETURN FORM.
We ship World wide!
Check out our other website listings for more turbos available. If you don't see what you need just give us a call or email us.
Toll Free # 1-866-552-3477 EXT 1
Local #      1-613-868-6801   
Service@turbopartscanada.ca
Rebuilt Nissan Juke Turbocharger