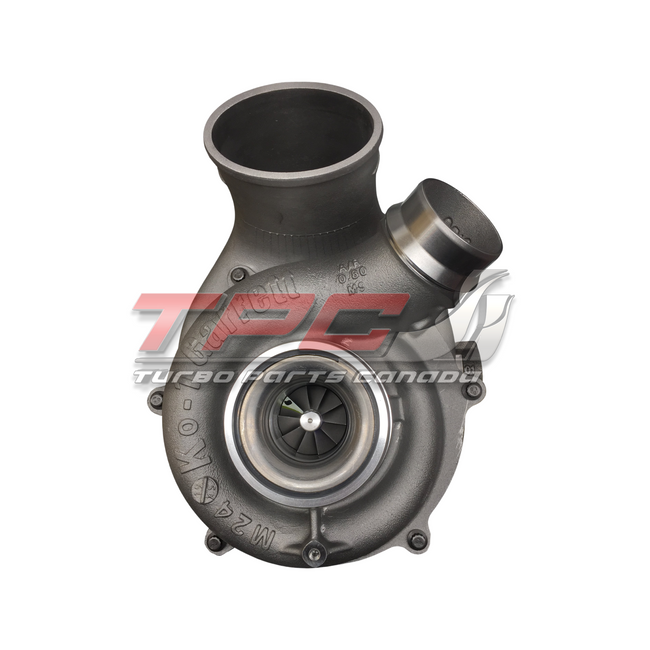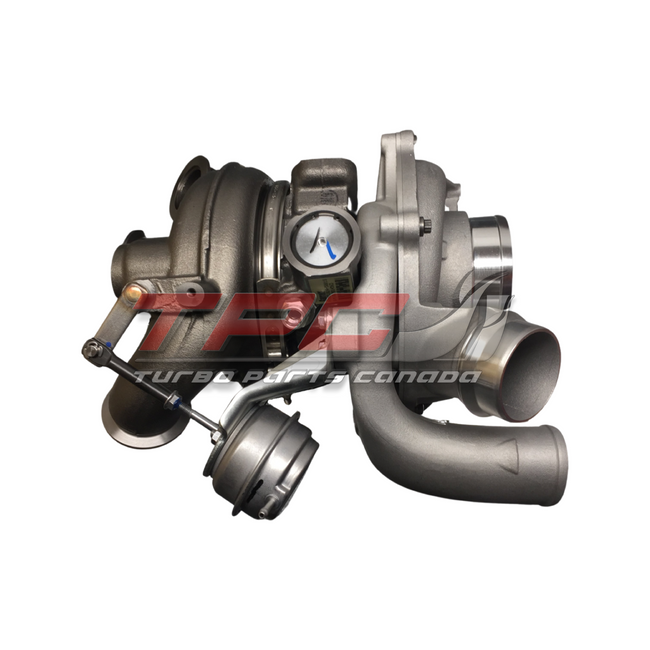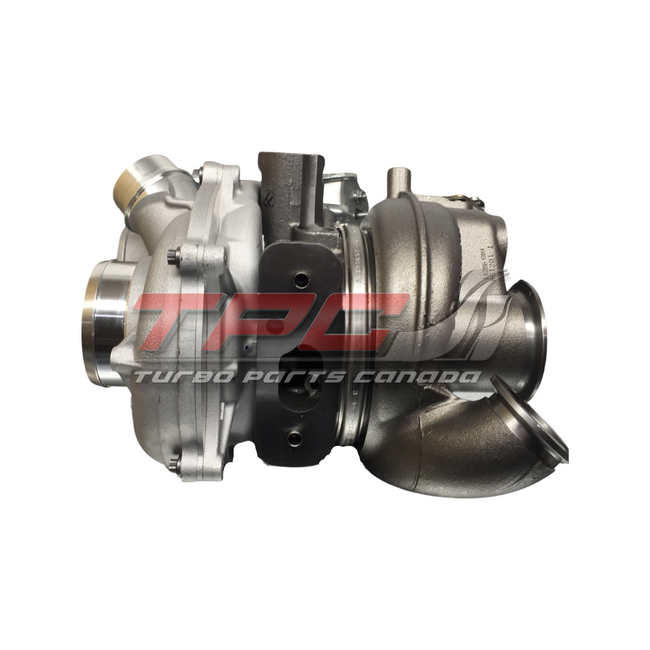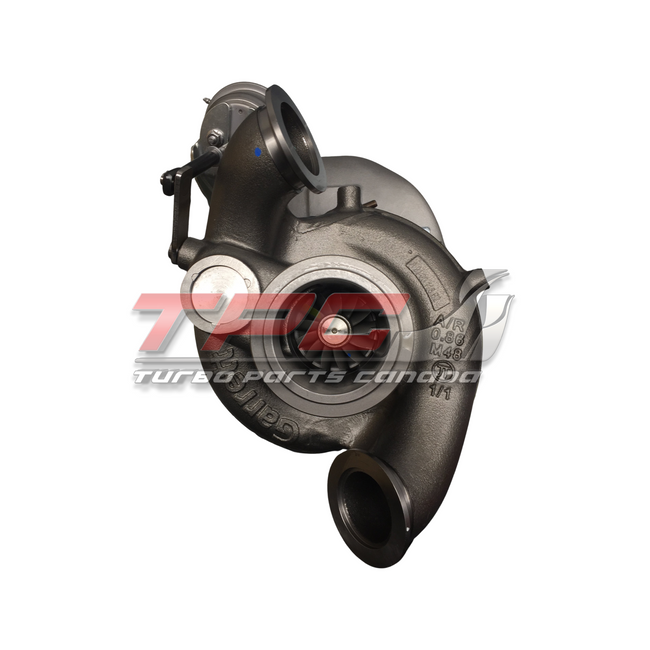 Ford's move to the 6.7L Scorpion Powerstroke meant more top and low end power as well as better torque throughout the power band. Ford engineered this engine in-house to be the cleanest and most powerful Powerstroke engine ever. One way it was able to achieve those gains over the prior generation 6.4L Powerstroke (equipped with a massive BorgWarner dual turbocharger system) was through the use of the SST / Scorpion VNT dual boost single SST3266V Garrett turbocharger. The first of its kind, this Garrett turbocharger contains the world's first dual-sided compressor wheel. This innovation enables two-stage engine boosting out of a single turbocharger, essentially allowing the single sequential turbocharger to act like a dual turbocharger system with less weight and greater reliability. Traditional variable vane turbochargers don't require a wastegate and prevent over-speeding by opening vanes in the turbine housing. This unit, in contrast, uses variable vane technology to achieve desirable and quick spooling, while also using a wastegate to eliminate possible over-speeding. Early units supplied to Ford featured a ceramic ball bearing system that was prone to fail, and this unit has been redesigned to incorporate a steel ball bearing to address that issue once and for all.

Low friction ball bearing system reduces mechanical loss and improves responsiveness and fuel economy
Wastegate-on-VNT bypass valve allows a high power point by bypassing the turbo
Steel ball bearing ensures efficient and long-lasting operation and has been redesigned from earlier ceramic ball bearing units
Pedestal mount is not included. Ford suggests reusing the stock mount
When this stock turbocharger fails, it often blows seals and allows oil into the intercooler. We suggest at a minimum an intercooler inspection and possibly a replacement at the same time the turbocharger is replaced.
Your complete and rebuildable core must be received within 30 days in order to receive a core refund

Guaranteed exact fit.
Brand New Genuine Garrett Scorpion224 SST3266V Turbocharger. 
**PLEASE CALL TO CHECK ON AVAILABILITY & PRICING**
Comes with a 1 year unlimited mileage warranty. 
New bearings, New Seals, Media blasting, Ultrasonic cleaning, High speed balancing and premium packaging.
Customer has 6 months from date of purchase to return core for refund. Once we receive your core and confirm its rebuildable we will process your core refund. This usually takes 3-4 business days after receiving.
We ship World wide!
Part Number

851824-5001S

Previous Part Number

851824-0001, 795655-0001, 785700-0001, 785700-9001, 795655-0002, 795655-0003, 795655-0004, 795655-0005, 795655-0006, 795655-0007, 795655-0008, 795655-0014, 795655-0014, 795655-0015, 795655-0016, 795655-0017, 795655-0018, 795655-0019, 795655-5001, 785700-5001, 785700-9001, 795655-5002, 795655-5003, 795655-5004, 795655-5005, 795655-5006, 795655-5007, 795655-5008, 795655-5014, 795655-5014, 795655-5015, 795655-5016, 795655-5017, 795655-5018, 795655-5019, 7956550005, 7956550006, 7956550007, 7956550008, 7956550014, 7956550016, 7956550017, 7956550018, 7956550019

Year/OE Number/Manufacture Part Number

2010-15

BC3Q9G438AC, BC3Q9G438AD, BC3Q9G438AD, BC3Q9G438AE, BC3Q9G438AF, BC3Q9G438AG, BC3Q9G438AH, BC3Q9G438AJ, BC3Q9G438AK, BC3Q9G438AL, BC3Q9G438AM, BC3Z6K682A, BC3Z6K682AFC, BC3Z6K682AFC, BC3Z6K682C, BC3Z6K682EA, BC3Q9G438, BC3Z-6K682, FSGSBC3Z-6K682-B, BC3Q-9G438-AM

Description

Truck Super Duty F-350, F-450, & F-550, Power Stroke Pick Up , Steel Ball Bearings

Turbo Model

SST3266VJLNRSUB, SST3266LRVA

Displacement

6.2L, 6.7L, V8

Engine

Power stroke "Scorpion"

K/W

300/400 HP

Manufacturer

Honeywell-Garrett Bluetec

Engine Manufacture

FORD

Fuel

Diesel

Applications

2010-15 Ford F250, F350, F450, F550 Super Duty Truck with 6.7L V8 Power stroke Engine
Check out our other website listings for more turbos available. If you don't see what you need just give us a call or email us.
Toll Free # 1-866-552-3477     Dieselsales@TurboPartsCanada.ca
Local #      1-613-978-6801     Customerservice@TurboPartsCanada.ca
2010-15 Ford "Scorpion 224 " Truck SST3266V Turbo 851824-5001S