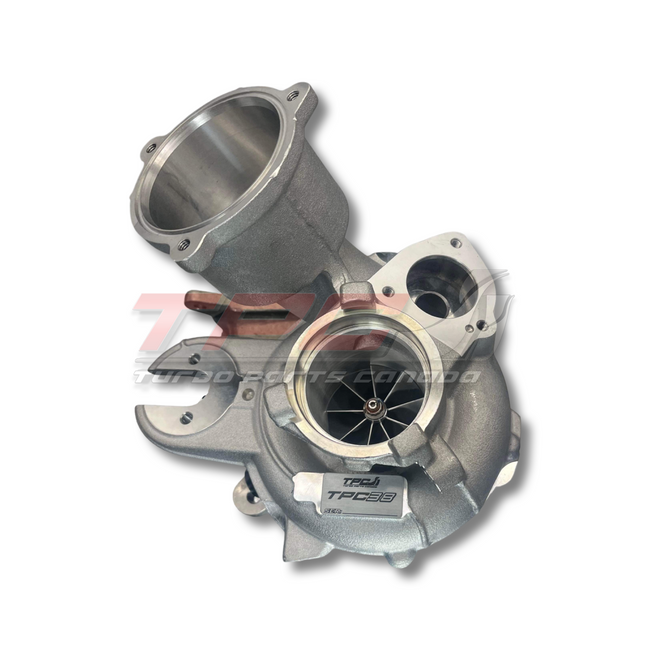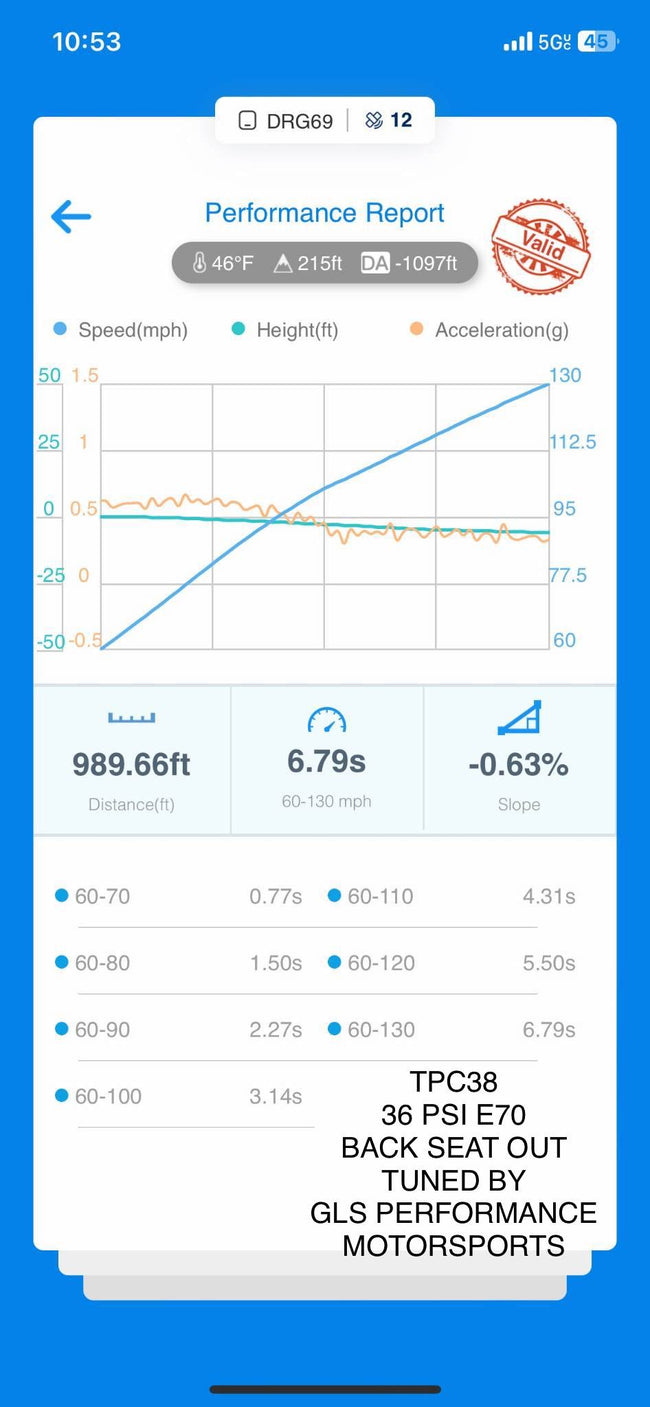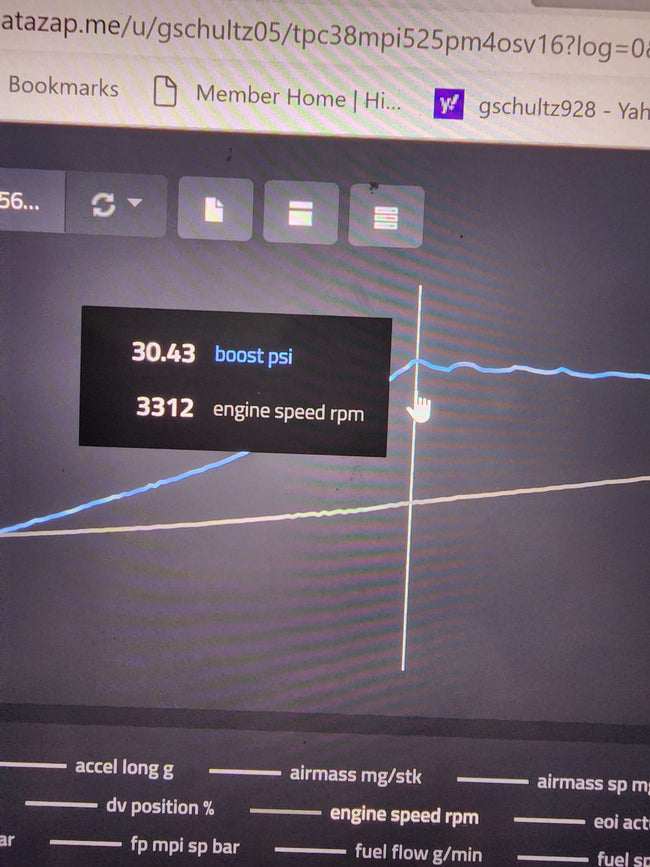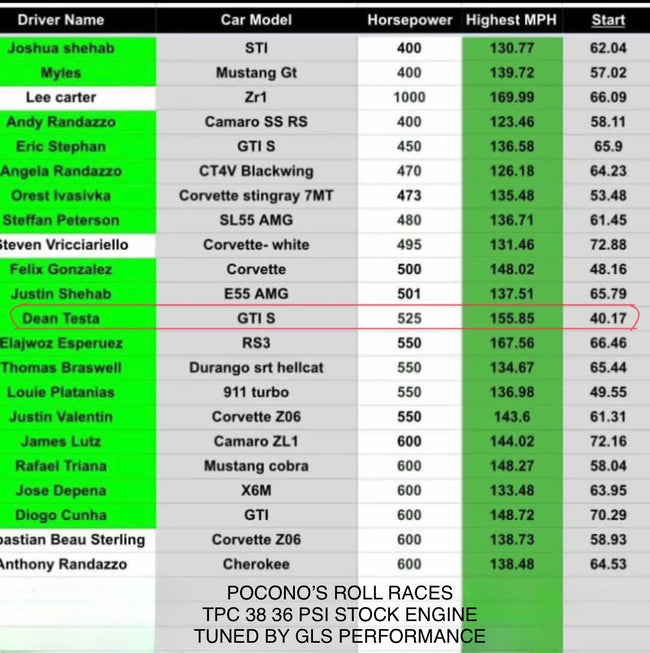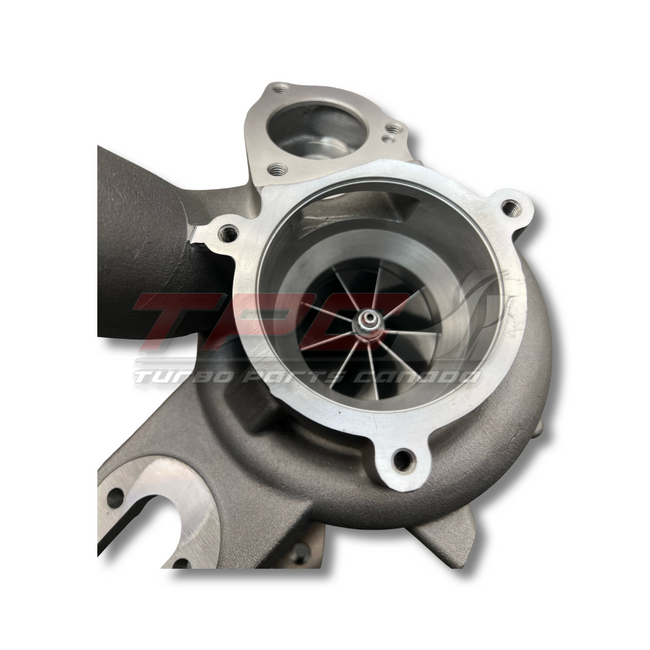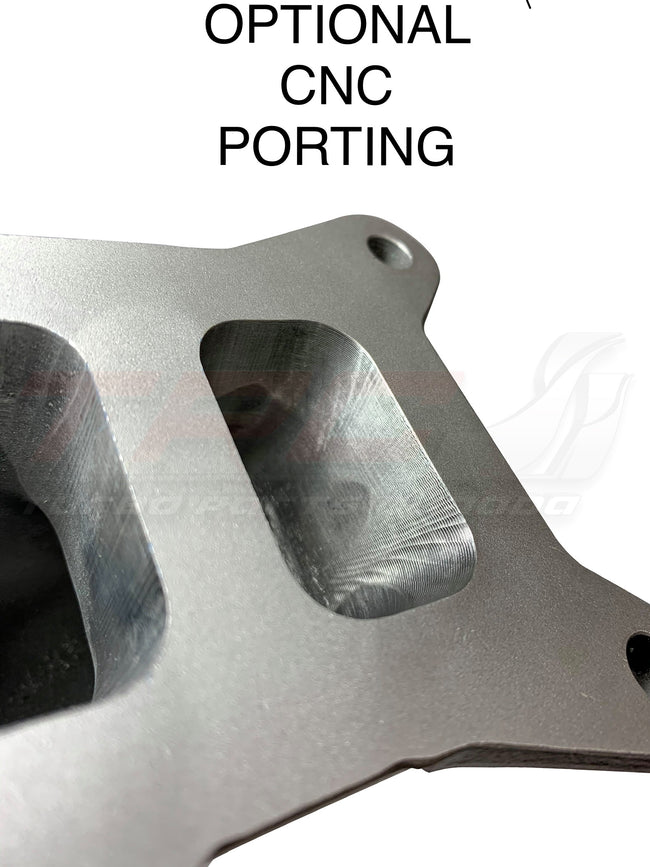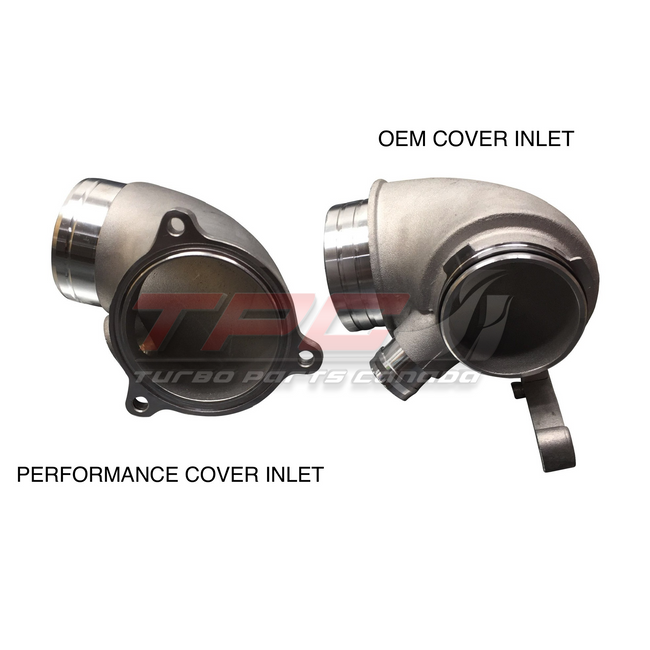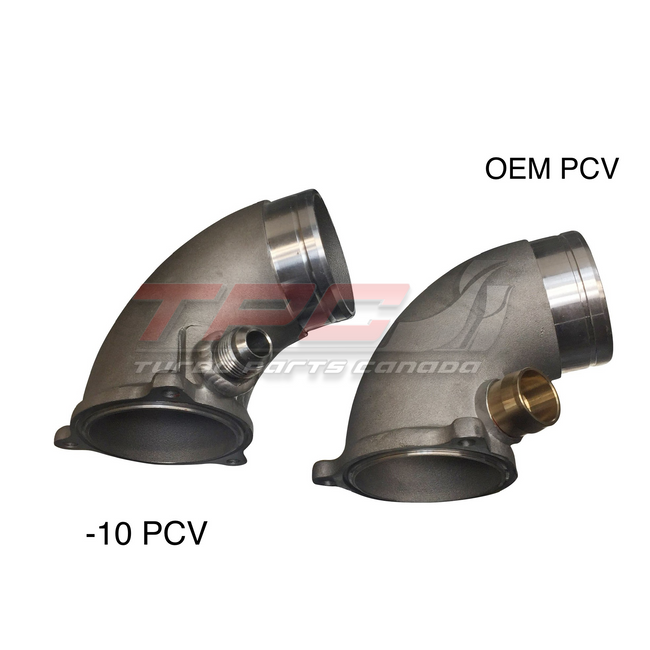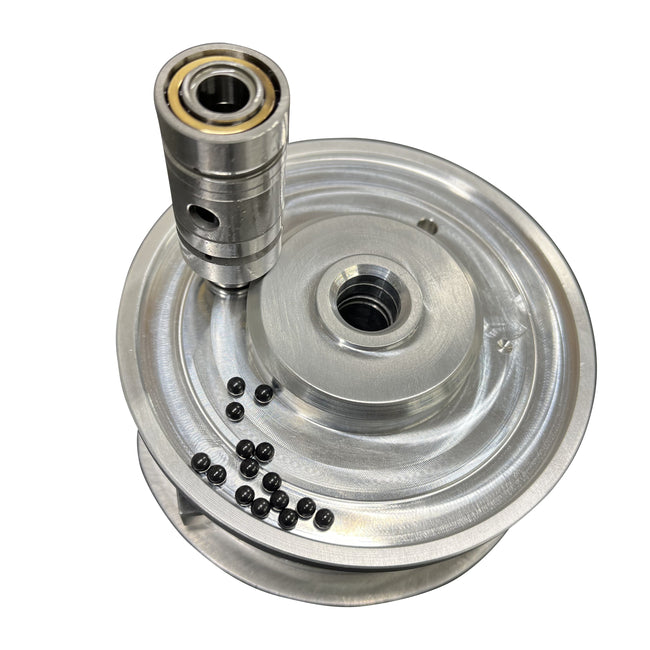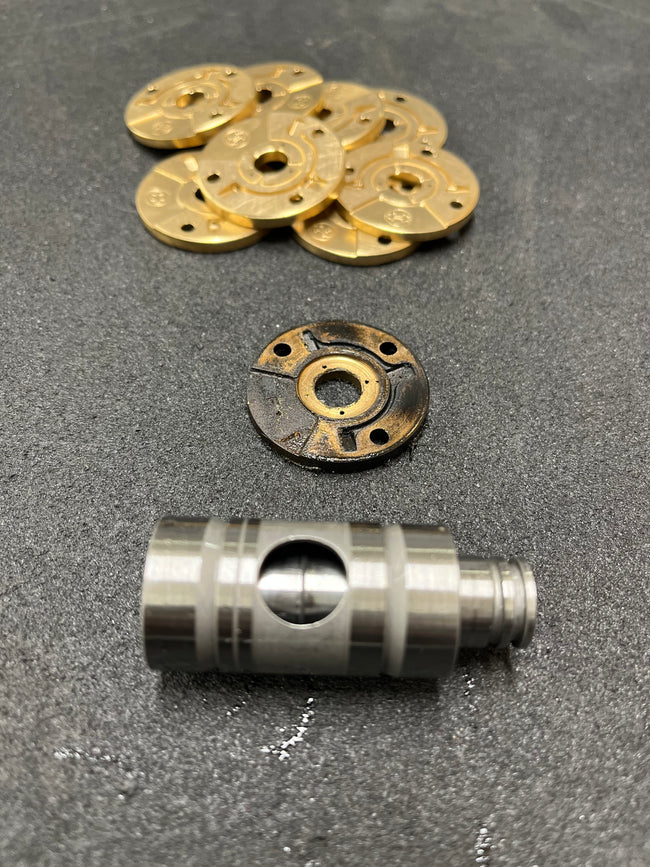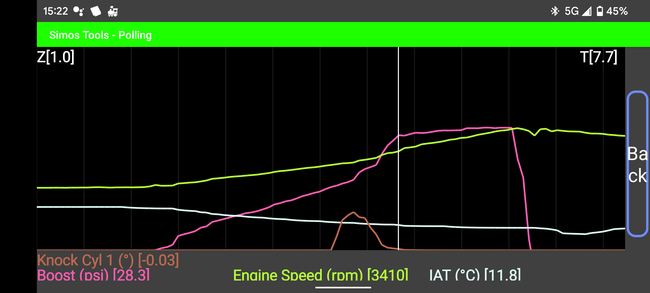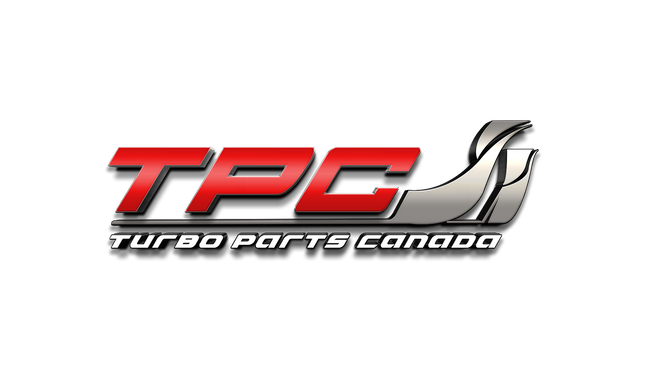 We are proud to introduce to you the New TPC38 Ball Bearing MQB Turbocharger for the Audi and Volkswagen community.

After many hours of design and months of machining TPC made custom parts for the TPC38 to host a 54mm x 71mm with extended tips. On top of that we mated the new comp wheels to a 9 blade G series style turbine wheel for quicker spool and better flow than the older design 11 blade turbine wheels and the attached graph shows how quickly it spools to an amazing 28.3 psi at 3410rpm on a 93-pump gas tune by user AROB157. Also posted is some data from GLS Performance on ethanol, 30.4psi at 3312 rpm. The TPC38 spools incredibly well!!!
Another upgrade is the option of our new performance design compressor cover which includes an intake elbow and muffler delete. 
Compressor wheel options                          Turbine wheel 
TPC38 54 x 71mm                                       TPC38  55 X 60mm
 On top of having some of the best wheels in the class this turbo uses BALL BEARINGS which makes this turbo more reliable and faster spooling then it's JOURNAL BEARING counterparts.
You can choose from 2 styles of compressor covers, the OEM or PERFORMANCE version.   
About the PERFORMANCE COVER version: The 2-piece intake system is far superior to the OEM models as shown in the pictures below. The opening at the turbo's inlet is approximately 1" larger than stock and has a nice angle inside the inlet portion to direct the air flow more efficiently. The result means better air delivery to the compressor wheel. The inlet pipe on the performance cover is available with an OEM style PCV fitting or a -10AN PCV fitting for easier catch line installation.  
With our upgraded compressor housing,  it comes with either a 2" outlet on the compressor housing for people running an OEM sized TMD or a 2.25" outlet for people with a discharge pipe from brands such as Neuspeed, AFE, and EQT that came with a LARGER DIAMETER TMD. If you are unsure as to the size of the turbo muffler delete, you are running measure the OD at the serrated portion of the TMD.
Note that the current intake elbow is OEM sized on the intake side to easily bolt up to any intake that attaches to an OEM size turbo inlet pipe. We are developing a 3" elbow for even better flow over our already high flowing inlet.
Please note that those with APR catch can kit, the line requires slight trimming to fit with our OEM PCV when choosing the performance cover option.
Optional porting of the turbine housing inlet available.
WHEN ORDERING THE PERFORMANCE COVER PLEASE PUT WHAT SIZE OUTLET (OEM/2"or 2.25"Upgraded) YOU WOULD LIKE IN THE NOTES SECTION OF THE CART.
High Speed balanced in house on our VSR balancing machine.
 TPC also offers the metal portion of the coolant feed line (part#06K-121-492-F) as some people have a very hard time removing it from their turbo.
INSTALL KIT INCLUDED WITH TURBO
OEM Part Number

TPC38 BB MQB

Compressor Wheel

54MM x 71MM 9 BLADE

Turbine Wheel

55MM x 60MM 9 BLADE

Bearing Type Options

Ball Bearing

Engine

EA888.3

Turbocharger Upgrades

Upgraded Compressor & Turbine Wheel,  upgraded bearings and seals. Performance cover options comes with several options for outlet size.

Potential Power

550WHP With Supporting Mods

Install Hardware Included

YES

VSR Balanced

YES

Applications

Volkswagen MK7 Golf R 2015-2017 2.0 Turbo
Volkswagen MK7.5 Facelift Golf-R 2018-Present 2.0L Turbo
Volkswagen Arteon 2019-Present 2.0 Turbo
Audi Audi S3 8V 2015-Current 2.0T
Audi Audi TTS MK3 2016-Current 2.0T

Volkswagen MK7 GTI 2015-2017 2.0L Turbo
Volkswagen MK7.5 Facelift GTI 2018-Present 2.0L Turbo
Volkswagen 2018-Current Tiguan MQB 2.0L Turbo
Volkswagen Atlas 2018 - Current 2.0t
Audi Audi A3 8V 2014-PRESENT 2.0 TFSI
Audi Audi TT MK3 2016-Current 2.0T

Volkswagen MK7 Golf 2015-Present 1.8T TSI
Volkswagen MK7 Golf Alltrack 2017-Present 1.8 Turbo
Audi Audi A3 8V 2014-PRESENT 1.8 TFSI
**PLEASE CALL TO CHECK ON BUILD TIMES**
Comes with a 1 year warranty
New bearings, New Seals, High speed balancing and premium packaging.
We ship World wide!
Check out our other website listings for more turbos available. If you don't see what you need just give us a call or email us.
Toll Free # 1-866-552-3477  EXT 1  
Local #      1-613-868-6801   
TPC38 Ball Bearing MQB Turbo